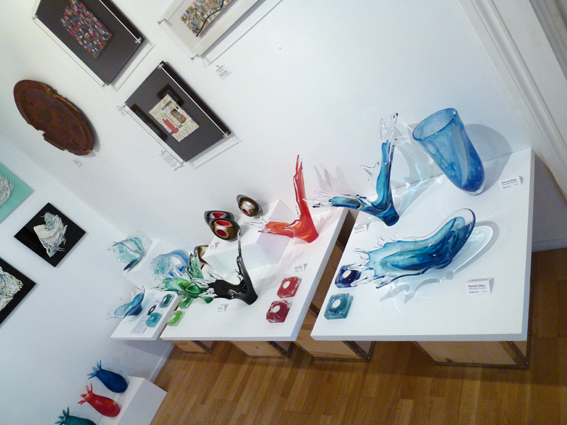 Richard Glass was born in Plymouth. He studied Fine Art at Southampton Institute where
he experimented with projects involving light and transparency, using salt, fat and sugars for casting. This experimental work led him to an interest in glass … "as well as having an apt last name … ".
Richard relished the idea of learning a skill, feeling that craftsmanship validated his work as
an artist. He returned to Plymouth and was awarded an HND in Ceramics and Glass followed
by an honours degree in Applied Art from Plymouth College of Art and Design.
Richard gained further experience working at Dartington Crystal as a production glassmaker, leaving Dartington Crystal and Devon to study glass design, gaining a Masters Degree from Sunderland University in 2003.
After returning to the South-West he realised his ambition to have his own studio identity,
"Fluid Glass". In 2005 Richard moved his studio to Teign Valley Glass at Bovey Tracey, where
he is developing his own line of high quality decorative and sculptural glass.
Richard has quickly established himself as an artist known for his energetic, yet precise and well balanced, elegant glass sculptures. His works make innovative use of colour and movement within the glass and are always finished to a high standard.
Richard says that his designs "feel a little retro but have a contemporary twist". He hopes that, "the last pieces of glass I ever make will be close to my very first efforts… Only by then they will be informed and refined"
With this in mind, Richard created his Ocean bowls especially for this exhibition. Richard spent some time working as a glass-blower in the old glassworks (today a restaurant) right here on the Barbican. The bowls were inspired by his memories of his work on the Barbican.