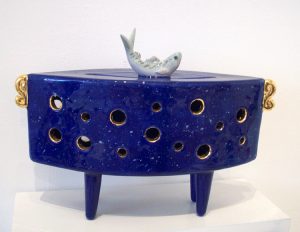 We have some lovely blues in the gallery this month. Full of energy, there is nothing melancholic about these pieces. This vessel by Frances Spice positively shines with a combination of a rich dark blue and gold lustre. It is called 'Reaching for the stars'.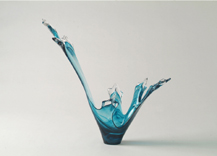 From sky to sea. Richard Glass makes wonderfully fluid sculptures inspired by water like his 'Splash' sculptures and vases.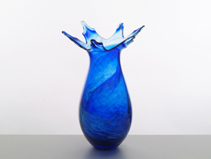 Delan Cookson uses the sea as his inspiration from his studio overlooking the Hayle estuary. His own recipe bright blue glaze on his porcelain vases and bowls has become his trademark and his work is widely collected.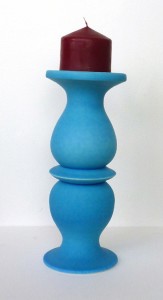 This candlestick is a rather unusual piece for Delan and based on balusters.
Sarah McCormack is mostly known for her 'stroppy clocks'. But her further ceramic works have a large ever-growing and devoted following, too. These 'Houses on a Hill' in copper and blue, raku fired, are a good reason why. Her work encourages to play and combine in quirky ways. These houses are separate from the 'Hill' and can be rearranged.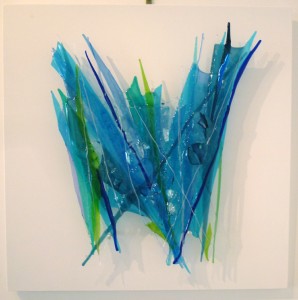 The walls should not be neglected. Hamlin and Wright have a range of very energetic glass wall panels.
Jane Price will be part of our textile exhibition starting on the 18th of October.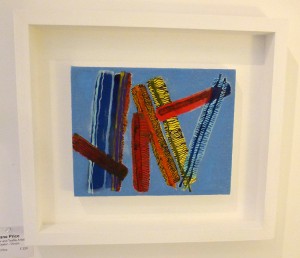 Please mark Saturday the 19th in your diaries for your chance to meet the artists here at the gallery from 3pm.
Lincoln Kirby-Bell famous for his very colourful and tactile tableware has made this rather unusually (for him) monochrome wallplate in blue.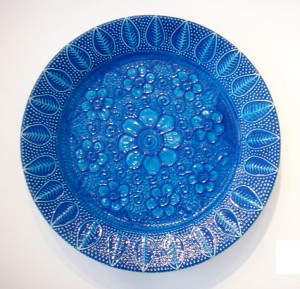 Visit us to see many more works in shades of blue and many other colours, too, of course. Some of these works can be found in our online gallery for more detail.