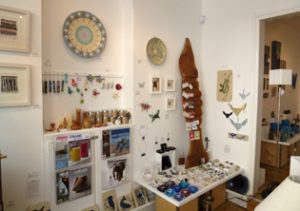 A few weeks have passed since the last 'What's in Store'. You have been keeping our artists busy with plenty of commissions. Next to bespoke orders we have also had plenty of new work delivered. Jan Brewerton, Lincoln Kirby-Bell and Kate Packer have been busy. Lincoln's latest design includes a range of tableware and this wallplates with frogs. Kate has been busy making jewellery, including her popular bug brooches and wall pieces.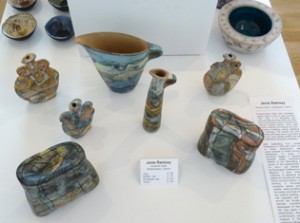 We also have a new ceramic artist at 45 Southside Janie Ramsey. Watch this space for a post on her work in detail soon. Janie's work is inspired by her time in Turkey as well as archaeology.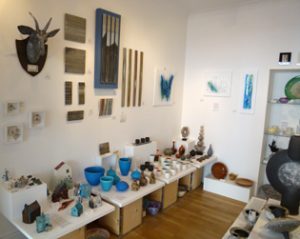 Coincidentally, one of the pewter wallpanels delivered by Melanie Guy recently is called Turkish Atmosphere. It is the smaller more colourful pewter panel underneath the larger panel. Also back with new work are Hamlin and Wright with their fused glass panels towards the back of the picture.
'Paris' is a rare Cityscape mosaic by Jude Freeman. Jenny Beavan and Jane Price have also created new work.