Our Exhibitions & Latest Events
New Work By Kate Packer - Skulls & Jellyfish Ahoy!
Inspired by the ocean, Kate's fascinating new wirework reaches a depth of its own with semi-precious stones and pearls intricately weaved into the wire. The new distinctive rings and eye [more]

Moorland Glass Vessels by Richard Glass - New Designs
Richard created a new series of glass bowls and vases inspired by our beautiful moorlands. The colours of a sunny spring day on the moors are embodied in every piece [more]

New Artist: Qi Zhang's fine porcelain work
We are excited to show Qi Zhang's masters work at 45 Southside. Qi studied a foundation degree in Applied Crafts at Cambridge and continued on to graduate with a first [more]

New Iris Milward Greeting Cards 2018
We have added three new greeting cards to our ever popular range by Devon artist Iris Milward. Please follow the link to our greeting card page and discover the whole [more]

Touchy Feely Exhibition 2017 - Tim Gee and Carol Hocking
An exhibition of textiles and ceramics by Carol Hocking and Tim Gee at 45 Southside, 17th September to 23rd October 2017 Carol Hocking is a textile practitioner with a lifelong interest [more]

Creatures Great and Small - Exhibition 2017
Creatures Great and Small - Exhibition at 45 Southside, 8th April to 23rd May 2017 At one time or another we have all had our hearts touched by furry or feathered [more]

John Pollex - New Work Exhibition
The current exhibition of John Pollex's most recent work is continuing to be a huge success. The exhibition will run until the 31st of May so there is plenty of [more]

Spread the costs for your piece of art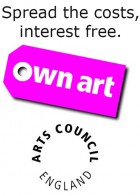 We are really excited to announce that 45 Southside is a member of the Own Art Scheme and that we can now offer our customers options of spreading the cost [more]

New Work By Kate Packer - Skulls & Jellyfish Ahoy!
Inspired by the ocean, Kate's fascinating new wirework reaches a depth of its own with semi-precious stones and pearls intricately weaved into the wire. The new distinctive rings and eye [more]