After graduating from Edinburgh College of Art in 2013, Melanie returned to the South West to set up her practice as a Sculptor. Much of her work takes inspiration from her native coastline, with pieces that seek to be investigated through touch as well as sight – the same way that a child would sift through a rock pool.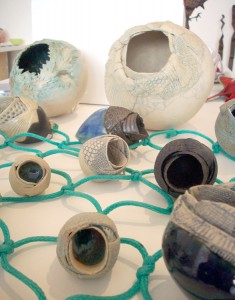 All of Melanie's pieces are entirely hand built, using traditional hand coil and pinching techniques.
We now have new work from Melanie, with a price range starting at just £24!
Each piece is very tactile, with intriging centres that hold beautiful contrasting glazes.