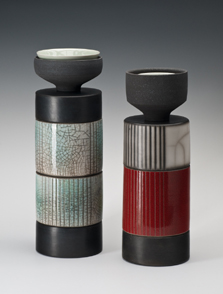 45 Southside Gallery starts a new year of exhibitions with an internationally renowned and collected, but locally based potter Tim Andrews. Tim Andrews has gained an International reputation for his distinctive smoke-fired and raku ceramics. Many works are black and white with linear decoration or burnished with muted coloured slips. His pieces have been acquired for both public and private collections and are exhibited widely across the UK and abroad.
Tim has been working as a potter for more than 35 years starting as an apprentice to David Leach in the late 1970s. Tim describes his own work and experience as : "Ceramics doesn't recognise age and only nods its head occasionally towards experience. The raku firing process continues to surprise and frustrate me. Of all ceramic methods, Raku in particular prefers to remain feral by nature, refusing to be tied down or controlled. Of course that is its appeal as well as its frustration. I still find working within a limited colour palette provides endless possibilities. The same raw materials have been used for centuries: clay – river washed and stratified, metal oxides and minerals from the ground used to produce colour and depth in glazes. The historical and material gaps are small. Human intervention and expression transforms and imparts meaning that we can all engage with. Linear decoration using smoke and 'resist' remains a favourite technique – black, white and just a few glazes. The 'soft' burnished or glazed surfaces for me, lend a warmth and intimacy to the pieces, integrating form and decoration"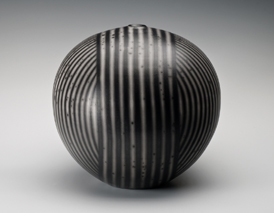 His latest work was inspired by a visit to China, where he visited old Sung Dynasty kiln sites. He has since mastered some very difficult techniques and challenges to combine raku, porcelain and black stoneware. The outcome is some truly stunning work, which will be on exhibition at 45 Southside in March 2013. All are welcome to meet Tim Andrews at 45 Southside Gallery on the evening of the 1st of March 2013 from 6-8pm.