We have started the 2013 with some new artists and plenty of new work by others. Corinna Butler is new to 45 Southside Gallery. Corinna and has lived in Plymouth for 12 years. She started painting when she was in her teens and then learnt to scuba dive. Diving opened her the door to an underwater world which has inspired her ever since. She joined the Plymouth College of Art to study working with glass. "I like to experiment with different styles and forms. This work was inspired by cloth and tartan, especially ragged pieces and off cuts. I wanted to allow light to move on the pieces so I have left them exposed to the viewer."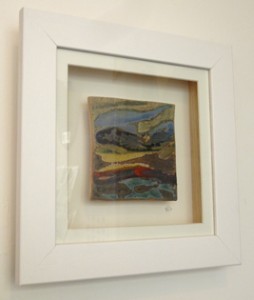 Nicola Crocker who took part in October's Westcountry Potters Association exhibition has also brought in some new work including a range of framed ceramic landscape tiles.
Another popular ceramic artist Rebecca Harvey's new work includes a range of bowls in all sizes, vases and beakers in her distinctive colours and tactile surfaces. She has had a busy year after an exhibition in Fortnum and Mason last year. The new work also includes some of her very popular serving dishes on Cornish oak plates and with Cornish pewter spoons.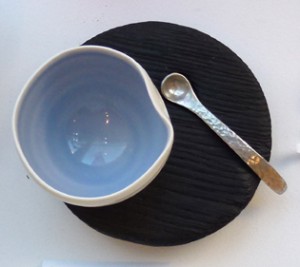 With Mother's Day coming up very soon our selection of ceramic, silver and wirework  jewellery continues to sell well.
We are featuring Devon Potter Tim Andrews this month. Watch out for some images of his work here very soon. The exhibition looks great and it is almost a shame to part with some of the stunning pieces!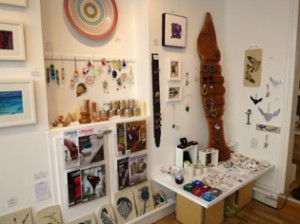 As always you can view more work in detail in our online shop.