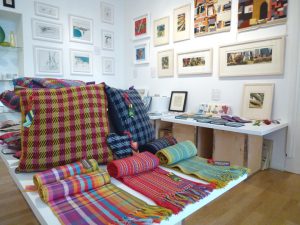 This must be one of the most sumptuous and tactile exhibitions we have ever had. Come and see for yourself tomorrow from 3pm with a chance to meet some of the artists.
It is British wool week this week, which is a good reason to feature Debbie Rudolph's weaving.
We will feature the other artists, fellow weaver Sue Spooner, contemporary embroidery by Jane Price and Beverley Bailey, mixed media textiles by Helen Edwards as well as ceramic panels, which started as embroidery by Emma West, in the coming days here in our news page..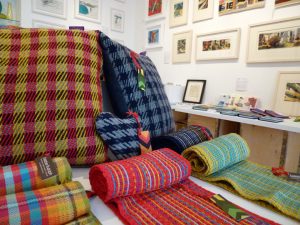 Artisan Weaver Debbie Rudolph lives in Cornwall and gained extensive weaving experience during a degree from Central Saint Martins College of Art and Design in London followed by a weaving scholarship with the International Wool Secretariat. Debbie uses her experience to create wonderful materials, which she turns into scarves, cushions, purses and bags. She weaves on a 40 year old Swedish made 'Lillstina' Loom. Her designs use surface texture and a bold approach to colour to create visually exciting and tactile beautiful textiles which conjure up other cultures and eras, while remaining refreshingly contemporary.
Find out more about the event on Saturday 19th October here.