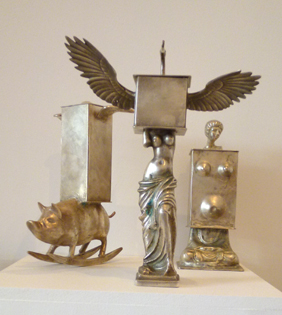 Noah Taylor's work spans a wide variety of purposes. Decorative as well as functional his artefacts range from the easy harmony of his candleholders and patinated copper products to these quirky and humorous chimerical silver plated containers.
Noah designs and makes furniture, sculpture, artefacts and architectural pieces inspired by a wide variety of influences and interests incorporating the Arts and Crafts movement, Art Noveau, Art Deco, myths and legends, all delivered through his own unique sensibility. The range of materials he uses includes most metals, wood, glass and plastics, often incorporating recycled parts and objects. The techniques employed vary from hot forging to casting, laser cutting to electroplating, woodworking to silver soldering.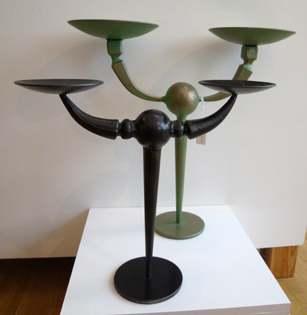 We have a range of his work on display including also these incense burners and copper boxes as well as the popular flying hearts.