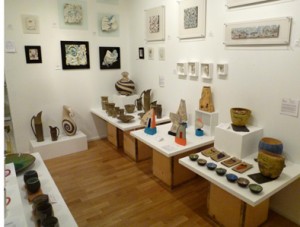 45 Southside Gallery and Westcountry Potters Association have joined forces to show work by a selection of the association's members. The exhibition features studio pottery by Adrian Bates, Nicola Crocker, Taz Pollard and Mariette Rennie alongside association members already represented at 45 Southside including Alex McCarthy, Kati Vamos, Iris Milward, Abi Higgins, Anne Cope and Sonje Hibbert.The exhibition is now up and running and very popular already.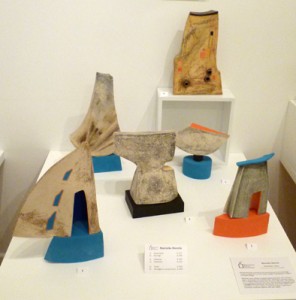 Mariette Rennie originally studied theatre and graphic design. She uses colour, textures and abstract shapes to create dimensional illusions. Her work reflects a long-standing fascination with abstract space, theatrically and architecturally. She creates striking contemporary stoneware sculptures.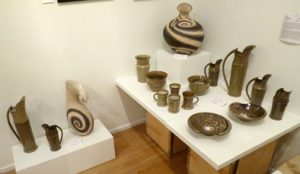 Adrian Bates also comes from a design background. He says: "I have long been fascinated with lines and curves and how they relate to each other in a given form, and also with vessels and the idea of containment. I love the many aspects of working as a potter; from the making, mainly throwing and coiling, through glaze development to the almost alchemical transformation that takes place in firing. I work in stoneware clays – white with reactive glazes and crank with oxides. " Adrian makes sculptural as well as functional pieces, which make clever use of curves and glazes to give a very fluid appearance.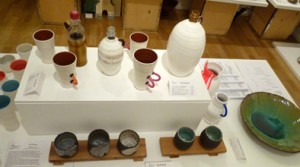 Taz Pollard's work is the result of her MA research at Bath Spa University, where she has created very technically challenging mixed media works combining plastic and ceramics. The pottery forms are very traditional, but given a modern twist through the use of colour or in combination with plastic. She describes her own work as 'delightfully bonkers' and 'playful and curious'.Taz also makes a large range of elegant Japanese inspired functional ceramics like tea bowls and plates or bowls.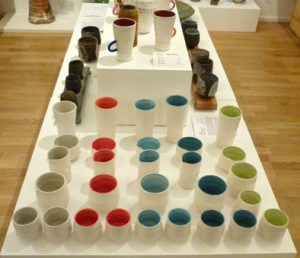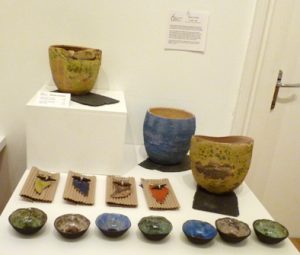 Nicola Crocker graduated from Petroc, where Taz Pollard teaches. She is inspired by her coastal environment in North Devon. "Interested in the nature of the clay; the forms I can produce from it, the colours and how the two can work together." [Nicola Crocker] Her visually stunning and tactile work is the product of a very experimental way or working, particularly with surfaces.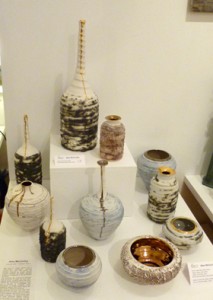 Alex McCarthy also experiments with surfaces and the tactile qualities of clays and glazes. "Using the thrown vessel as a canvas I aim to explore gesture and expression through glaze surface and sourced clays. The surfaces are inspired by textures that surround us such as; tree bark, natural rocks, cracking paint and even marine life. The thrown vessel is used as a canvas to investigate the properties of these surfaces. Thick reduction glazes add depth whilst the gold lustre a sense of opulence." [Alex McCarthy]
Alex sources his own dug clay from beaches around Devon and Cornwall. He has created a personal and unique palette of glazes. It is the range of textural qualities that can be obtained from different clays and materials taken from the ground that really excites him as a ceramicist and a human being.
The exhibition runs until the 19th November and also includes new work by Westcountry Potters Members already exhibiting at 45 Southside.