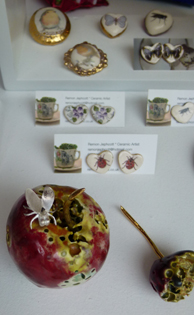 It has been a while, but we have a new web-site. Perfect time for an update on what is currently in the gallery.
We have had several new deliveries of jewellery, wirework by Kate Packer, for example, and also a delivery of Remon Jephcott's lovely (and humorous) ceramics and ceramic jewellery. New are these decaying fruit. We have apples, a pear and a cherry. The fly on the apple is made from real silver.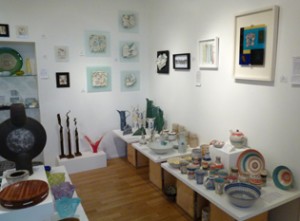 Jenny Beavan has delivered new work of both her stunning ceramic panels on glass and a sculptural work. You can find out more about her and her work in this month's Ceramic Review. We still have some copies. We also have new tableware by Lincoln Kirby-Bell. In addition, he has made some wallvases or flower pots in his signature style.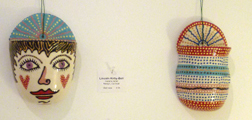 Glass artist Richard Glass and metalsmith Noah Taylor have also dropped by new work. Some of Noah's latest sculptures are visible in the image above along the back wall next to one of Richard's Splash Sculptures.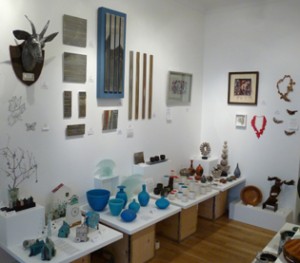 More pewter work by Melanie Guy has also arrived, there are new 'wallsculptures' but also a selection of tableware and sculptural works, which is a new departure for Melanie.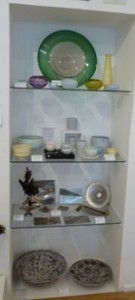 This includes coasters, dishes, paperweights and a very elegant Sushi dish. On the shelf above Melanie's work are Rebecca Harvey's latest porcelain vessels. Her work is smooth yet tactile with a number of different shaped bowls of various sizes as well as her serving sets on Oak plates with Cornish Pewter Spoons.