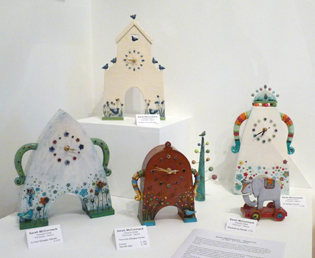 Sarah McCormack is well known for her "Stroppy Clocks". We love having these quirky fellows in the gallery. For her exhibition here at 45 Southside, Sarah has created lots of new work including tapirs on wheels!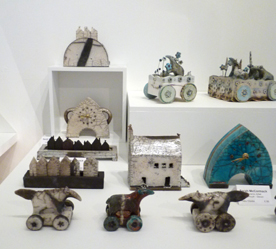 The centrepieces for this exhibition are two carnival floats inhabited by tapirs.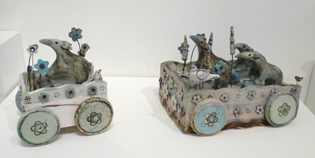 Sarah combines different firing techniques and glazes to produce visually stunning and imaginative work. Her work ranges from the aesthetically beautiful and elegant, like her houses on a hill, to the whimsical, like tapir islands. All together they form a fascinating body of work, which inspires to dream.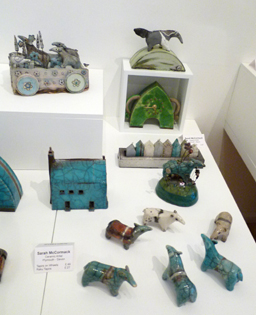 Sarah's work frequently explores the idea of home – from children's drawings to her own paintings and illustrations. Recently culminating in a series of actual houses, dwellings and dovecotes. These are made from stoneware, earthenware and most recently raku, working with raku artist Christina Peters at Flameworks in Plymouth, who also exhibits at 45 Southside.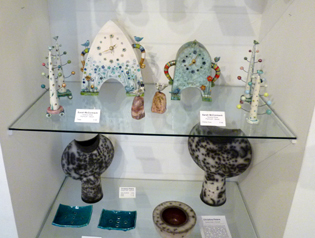 Some of Christina's raku-fired work is visible on the bottom shelf here.
Sarah has been producing ceramics since studying at Sunderland College of Art & Design, where she graduated with a degree in Glass & Ceramics in 1985.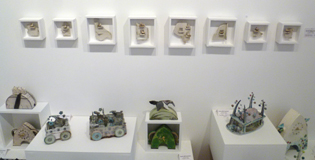 From 1998 – 2006 Sarah made ceramic multi-piece panels and one piece impressed panels , techniques combining multiple glazing with incising and impressing. This experimentation has led to a very good understanding of slab work and a wide range of mostly earthenware glazes.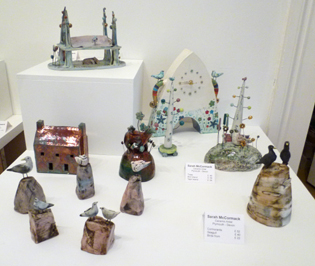 Since moving to Plymouth, Sarah has returned to three dimensional work. Her current work is influenced by experiments with different clays and decorates with oxides, engobes, glazes and lustres.
Time consuming ceramic techniques combined with lack of available work time led to the development of a series of ' stroppy clocks ' which combine architectural form with human characteristics.