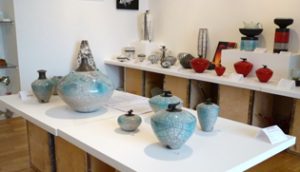 Tim Andrews has gained an International reputation for his distinctive smoke-fired and raku ceramics. Many works are black and white with linear decoration or burnished with muted coloured slips. His pieces have been acquired for both public and private collections and are exhibited widely across the UK and abroad.
He says in his own artist's statement: 

I have been 'bashing clay' for thirty five years now – a landmark that comes with a certain amount of reflection. I often describe myself as being a fundamentally lazy workaholic. A personal contradiction that reflects the nature of the job – or is it the other way round? The desire to push on in an attempt to 'get it right' seems to continue and the words of David Leach still seem to echo around the studio "…so are you any good today Andrews?"

Ceramics doesn't recognise age and only nods its head occasionally towards experience. The raku firing process continues to surprise and frustrate me. Of all ceramic methods, Raku in particular prefers to remain feral by nature, refusing to be tied down or controlled. Of course that is its appeal as well as its frustration. I still find working within a limited colour palette provides endless possibilities. The same raw materials have been used for centuries: clay – river washed and stratified, metal oxides and minerals from the ground used to produce colour and depth in glazes. The historical and material gaps are small. Human intervention and expression transforms and imparts meaning that we can all engage with. Linear decoration using smoke and 'resist' remains a favourite technique – black, white and just a few glazes. The 'soft' burnished or glazed surfaces for me, lend a warmth and intimacy to the pieces, integrating form and decoration

However, raku potters are by nature explorers and a trip to China a couple of years ago rekindled my interest in porcelain and particularly celadon after a visit to the old Sung Dynasty kiln sites in Longquan. My most recent ceramics combine raku with black stoneware and porcelain. The technical and aesthetic challenges of putting together coherent pieces using different clay bodies and multiple firings in this way are… to say the least….stretching. My primary goal is always for the work to have integrity and enough presence to make it worth taking up space in this cluttered world. Some pieces involve the use of vessel forms within 'saggars'. Traditionally, saggars were clay containers in which delicate ceramics were protected in the kiln. These new pieces explore ideas about containment and protection – and the notion of beauty and the way we perceive and value it.

"An artist's work is deeply rooted in the psychology of the maker. In these new forms Tim Andrews has found his questioning spirit and one that escapes and refuses to be tied down to a single symbolic meaning"

Andy Christian

"…so are you any good today Andrews?" Well maybe another cup of coffee and some procrastination and I'll see….
Tim Andrews' stunning new owrk is on display at 45 Southside Gallery throughout March 2013.